Turku's most Insta-worthy sights
We might be biased (we definitely are), but Turku looks good on camera. With its ever-changing seasons, cobblestone streets, and playful sculptures, the city has plenty of Instagrammable sights that are sure to max out your iCloud limit. Here's your guide to getting that perfect shot.
The Aura River runs through Turku's veins, pumping life into the city. No matter where you stand, you're sure to capture something beautiful, but here are a few tips to get you started.
Rent a Låna boat – Charge your camera, pack a picnic, and set sail down the Aura River. You'll find Låna right by Vähätori Square, and you can rent their electric-powered boats for up to three hours, giving you lots of time to enjoy the river from every angle.
Take a Föri cruise – What's orange, beloved by locals, and rocks back and forth across the Aura River? The Föri ferry, of course! If rickety authenticity is your thing, stroll in the direction of Turku Harbour and treat yourself to a free four-minute cruise.
Relax on a riverboat – The Aura River's fabled fleet of riverboats look simply gorgeous as the evening starts to fall. Order a pint and get a snap of the sunset (or sunrise if you're a night owl).
Head to the Library Bridge – Whenever there's a whisper of magic hour, you'll find a passionate photographer setting up their tripod here. Be sure to come in the evening when the Library Bridge is lit up in colour. The city chooses the colours carefully; sometimes there's a special occasion to celebrate, while on other nights, there's an important cause to support.
Wander along Lönnrotintie Road – Cross over the Cathedral Bridge (as though you're heading to Restaurant Gustavo) and make your way along a little-known path known as Lönnrotintie Road. It passes close to the water's edge, making it the perfect spot to capture a shot of the verdant riverbanks, wooden houses, and Turku Cathedral's serene tower.
The island of Ruissalo is a must-see on any visit to Turku. It's famous for Ruisrock, the second oldest music festival in Europe, plus it's packed with photographic gems. Head straight to Kansanpuisto Park (you can take Föli bus #8 or a water bus in the summer months) and wonder at the wooden villas lining the shores. The colours are like something from an old-fashioned ice cream parlour.

There are some Turku sights that always draw a crowd, but it's for good reason. Grab your camera and get a unique angle on these iconic city attractions.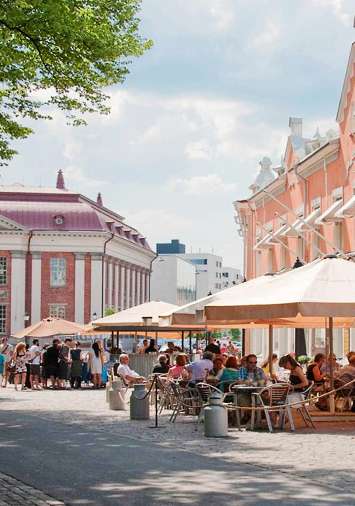 Fibonacci Tower – This renowned landmark is the reason why every Turku resident can recite the Fibonacci sequence (at least from 1 – 55). For the best view, wander across Martinsilta Bridge at night, when you'll see the numbers light up the city's skyline.
St Michael's Church – With towers that look like something straight from a fairy tale, it's no surprise that this church is one of the most popular places to get married in Turku. It was designed by Lars Sonck, who was just 23 years old when he won the competition to draw up its plans. The church was finished in 1905.
Theatre Bridge – Found right in front of the Turku City Theatre, this bridge is known for its seasonal decorations. Bright yellow daffodils are planted for spring, while Christmas trees line the bridge later in the year.
Turku Castle – Make your way towards Turku Harbour to admire this 700-year-old historical monument. While it's undergone many changes over the years, it's still one of the best places to explore Turku's medieval past. And, if you visit in July, you might even catch some armour-clad enthusiasts jousting on horseback. Keep an eye on the Turku Castle Tournament page for more info.
Posankka – Have you ever wondered what a pig-duck combo would look like? Find out when you visit Alvar Gullichsen's famous statue, Posankka. It's the official city animal of Turku.
Want something that looks as good as it tastes? Head to these restaurants, cafés, and bars to savour some culinary art.
Café Art – Situated beside the Aura River, Café Art is home to the city's best baristas. Grab a seat on the riverside terrace, and be inspired by the pastel-coloured buildings, the sunshine twinkling through ancient trees, and the beautiful pattern made in the foam of your latte.
Tiirikkala – The rustic interior of Tiirikkala is just waiting to be the backdrop in your next photo. Enjoy the laid-back ambiance as you listen to some live music on a Friday evening or catch up with friends over a lazy Sunday brunch.
Turku Market Hall – Make your way to this iconic building to photograph a piece of Turku's culinary soul. Turku Market Hall is the second oldest of its kind in Finland; it was opened in 1896 and designed by Gustaf Nyström, who also drew up the plans for the Old Market Hall in Helsinki.
Walo Rooftop Bar – Take the elevator all the way to the top of Original Sokos Hotel Wiklund. Here, you can pull up a seat and order a cocktail, while you take in Turku from a whole new angle.
Your Insta-adventure doesn't have to end when you hit the hay. Take your pick from these options, and your smartphone will be working overtime.
Hotel Kakola – There's no doubt that Hotel Kakola is one of the most Insta-worthy places to stay in the city. This granite building was once a prison, and it's here that the most notorious criminals in the country did time. It's been newly renovated, but its history hasn't been forgotten.
Park Hotel – Housed in a spectacular Art Nouveau building, Park Hotel is right near Puolalanpuisto Park. It was built more than a century ago and now contains 20 unique rooms, each as charming as the next.
s/s Bore – Completed in 1960, this Swedish-built ship spent 17 years sailing between Turku and Sweden, and then another two decades cruising even further afield. Nowadays, s/s Bore is part of Forum Marinum's museum fleet as well as an award-winning hostel. After you check in, head to Forum Marinum to photograph the enormous daisy laying in front of the museum.
Text Liina Komi and Kathleen Cusack. Videos Kim Allen-Mersh. Photos Jemina Sormunen and Visit Turku.