1

Turku Food & Art Festival

Are you fascinated by art? Do you enjoy tasting good food? What if those two passions were brought together, letting you enjoy the creative works of both artists and chefs? The Turku Food & Art Festival (5th-8th September) is a feast for body and soul. A festival that pampers the mouth, the eyes and the mind, all at the same time.

Indulge in taste sensations, crafted by the hands of top chefs and skilled bartenders, and become immersed in a captivating programme of art. And where is this all happening? Well, at the Ruissalo Boatyard events venue, for certain. Sample and savour for sensory satisfaction.

©Food & Art Festival, Julius Konttinen
2

FightBack Run

FightBack Run (7th September 2019) is the most cheerful running event in Turku, gathering together hundreds of enthusiastic participants every year. And not just for the thrill of activity but also for the benefit of charity. FightBack Run is a charity event organised by former freestyle skier Pekka Hyysalo, with the proceeds going to support Hyysalo's FightBack activities.

It's hard to come up with excuses to not participate, especially with encouragement from the eternally affable Hyysalo jogging alongside. The task is unhurried: 2.7 km route can be completed in as much as five hours – so no pressure. The most important aspect of the race is the fantastic atmosphere!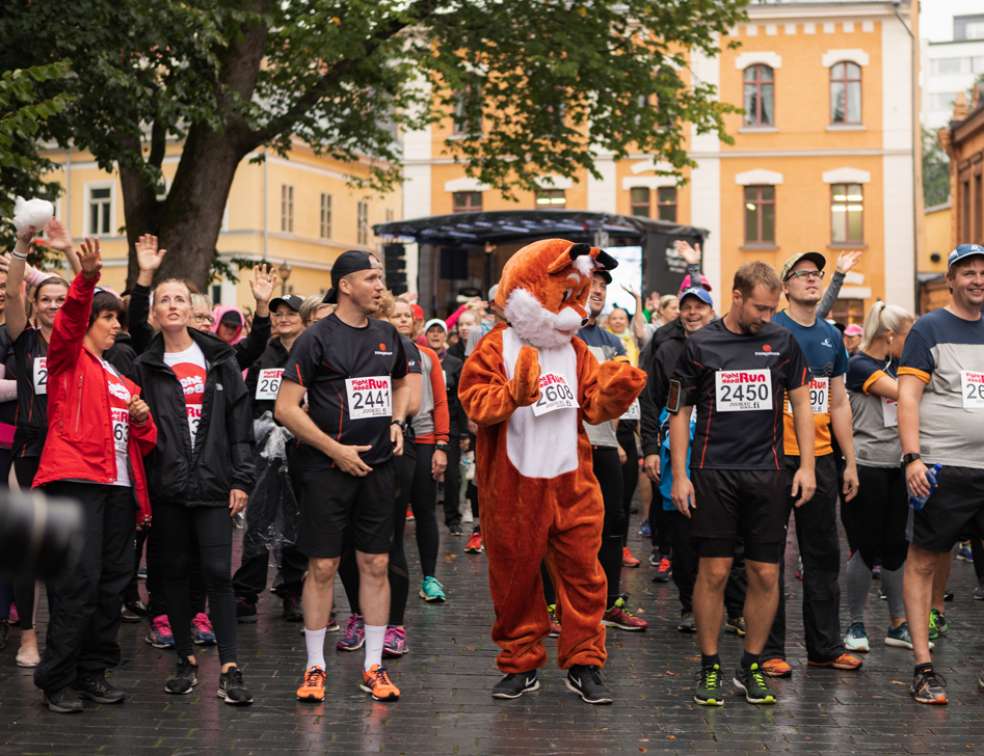 3

Konstrundan

Located in Pargas, you'll find a courtyard building with a large drawing on the wall by sculptor and artist Arja Maarit Puhakka. The drawing is created using the "free line technique", a method conceived by the artist. You'll find paintings in the attic and art in various forms in every corner of the garden.

Art is part of everyday life, but how many of us explore the places where they were created? Every year Konstrundan opens up the workspaces of artists, giving everyone the chance to see what an artist's life really looks like. The event occurs in September, and by visiting Konstrundan's website you can find out the dates and participating studios.
4

Elokuvapäivä (Film Day)

Turku is called the Paris of Finland but considering the number of movies filmed in the city, it could also be known as the Finnish Hollywood. What better way to live up to this reputation than by organising an event where the whole city turns into a cinema. The Elokuvapäivä film day is celebrated twice a year, with the next event taking place 7th September 2019.

The ingenuity of Elokuvapäivä is that just about anyone can organise their own movie screening. Films can be shown in Turku's restaurants, libraries, bars or even on a stranger's sofa. Alternatively, you could even put up your own public screening!
5

In Theatres Now x 2

Your priority this September is clear – head to the theatre! Some truly memorable experiences are on the billing this time round. Highly anticipated this autumn is the wonderful story of Amélie, where audiences can enjoy the enchanting world of the protagonist's imagination, now immersed in musical form.


This autumn, another famous story receives its premiere – Kalevala. This new creation of the thrilling classic adventure brings the fictional characters and epic poetry to life with a combination of musical theatre, animation and puppetry. Get your ticket and don't miss out!

The Amélie musical premieres at Turku City Theatre on 13th September
​​​​​​​Kalevala's premiere is at Åbo Svenska Teater on 19th September
6

Turku Day

Although every day is like a holiday for those living in Turku, it's important that a special day is reserved to remember just how great everything is here. On Turku Day, 15th September, the city is packed with all sorts of special activities. (With things happening on Saturday 14th September, some are in a hurry to get started, but Sunday is really the main day.)


The PM Races is a top-notch sports event with a family-orientated programme. Many places open their doors to the public on the Sunday. For example, you can visit the Turku Fire Department and St Henry's Ecumenical Art Chapel, in addition to free entrance to many museums.


Whatever interests you, it's worthwhile heading downtown to explore all the fantastic (and free) things on offer during the day. Turku really is the best!

7

Flame Jazz Cruise

Originally, Flame Jazz was developed as a jazz project for the Turku 2011 European Capital of Culture year, initiating the boom in Turku's high profile and reputed jazz culture.


In the autumn, the concert venue boards a cruise ship, when the Flame Jazz Cruise (21st September 2019) transports the jazz way of life on a 24-hour festival out at sea. Jazz + archipelago scenery = the perfect combo!
8

Agility Dog Competition

In September (19th–22nd), the Gatorade Center is full of fun and excitement, when Turku hosts this year's Agility World Championships. This is no ordinary dog show or activity event, but rather the FCI's most prestigious and toughest agility competition. With a packed four-day schedule, participants from around 40 different countries come to compete. Spot's not the only one excited!

Whether you come for the athletic competition or just because you like cute dogs, it's impossible not to enjoy yourself.