1

Paavo Nurmi Festival

The festival, dedicated to Turku's own running legend, brings the joy of sport within reach of everyone, in the form of various events. At the Paavo Nurmi Games (11th August 2020)​​​​​​​, watch the world's top athletes, live and at close range, pit themselves against one another in the Paavo Nurmi Stadium.
2

Paavo Nurmi Marathon

There's no more fitting honour at a festival named after the nine-times Olympic champion, than to run a marathon like Paavo Nurmi. Raised in Turku, the 'Flying Finn' used to practice by running after trains. Rise to the challenge by running the full course, or get in the spirit with a 10km or half marathon loop (21st–22nd August 2020).

Over 3000 runners receive rapturous cheers from the crowd as they whistle along the River Aura and on Ruissalo Island. The support and communal spirit from spectators provides the rhythm for the runners.
3

River Aura Night Run

Whilst some prepare for the competition's tenth anniversary by going to bed, others are preparing to compete. The River Aura Night Run (21st August 2020) is guaranteed to be the darkest running event in Turku! In this race, enjoy sporting excitement in the peaceful night-time atmosphere of the River Aura, at the heart of the sleepy city.

Challenge yourself to a 5 km or 10 km run. In the longer distance, there's also the chance to compete as a team, so it worth luring in support from all the night owls and nocturnal fiends in your inner circle.
4

FightBack Run

FightBack Run (5th September 2020) is the most cheerful running event in Turku, gathering together hundreds of enthusiastic participants every year. And not just for the thrill of activity but also for the benefit of charity.


FightBack Run is a charity event organised by former freestyle skier Pekka Hyysalo, with the proceeds going to support Hyysalo's FightBack activities.

It's hard to come up with excuses to not participate, especially with encouragement from the eternally affable Hyysalo jogging alongside. But no pressure, the most important aspect of the race is the fantastic atmosphere!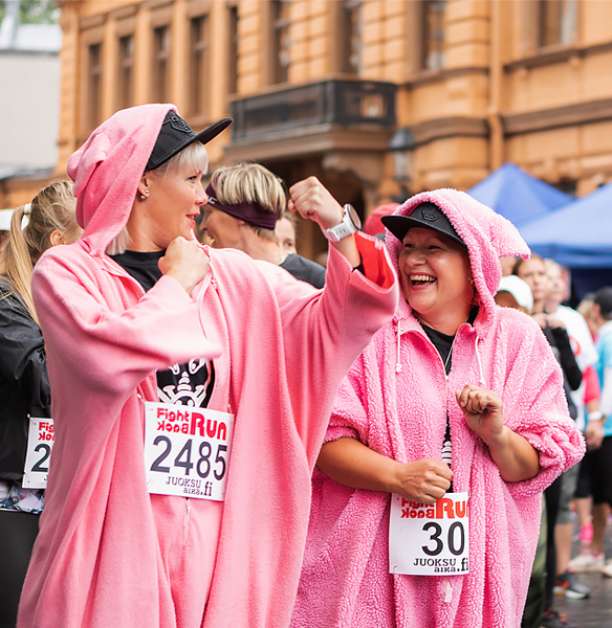 5

Challenge Turku

Are triathlons your thing or does the sport pique your curiosity? If this is the case, Challenge Turku (31st July – 1st August 2021) is an excellent opportunity to get to grips with this fervent physical activity. This energetic event weekend brings together professional triathletes and amateur enthusiasts from home and abroad, to race in the River Aura and sprint along its shores.

Of course, if the very thought of such a thing gets you in a cold sweat, just come along and support the fast-paced event. That's a great way to get involved as well!