Architectural treasures – from the stars in Turku city to the Paimio Sanatorium
LOCATED JUST A HALF-HOUR'S DRIVE FROM TURKU IS ONE OF THE MOST SIGNIFICANT WORKS OF ALVAR AALTO'S ARCHITECTURAL CAREER, THE PAIMIO SANATORIUM. BUT WHAT OTHER ARCHITECTURAL WONDERS CAN BE DISCOVERED IN TURKU AND ITS NEIGHBOURING AREAS?
Turku is known for its trove of historical treasures, the most notable examples of which are the city's oldest buildings, but this only tells half the story. So what should a modern architectural enthusiast think about when visiting Turku? Let's find out.
Well, first off, A is for Aalto and B is for Bryggman. The work of these creative pioneers in the 1920s and 1940s left an indelible mark on Turku's cityscape. You can also get acquainted with their work - and of course with other architects - on guided tours organised by both Visit Turku and the cultural travel agency Magni Mundi, which specialises in architecture. You'll find the tours currently available through our online shop, which are packaged into various themes.
For self-guided architectural exploration, read below for a comprehensive menu of architectural points of interest.
Paimio Sanatorium – Completed in 1933, the tuberculosis hospice has been a pilgrimage site for international architectural tourists since it was first constructed. The sanatorium, located half an hour's drive from Turku, is Alvar Aalto's breakthrough design, where visitors are amazed by the scale of the entire complex, as well as humane innovations and functionality that permeates down to the smallest detail.
For example, did you know that Paimio has its own spittoons? Or that the Paimio Chair was physiologically designed to help patients with lung diseases live and breathe more easily. And that the Paimio Sanatorium would have turned out very differently if it weren't for the contributions of Aino Aalto, who served as Alvar's influential partner in this mega-project.
In the summer of 2021, visitors will have much greater access to the Paimio sanatorium, when guided tours for the general public begin on 13th June. In addition, it is possible that from next winter you can also stay overnight in the sanatorium. That's got to be something to add to the bucket-list, right?
Move on to Turku and tour other designs from Alvar and Aino Aalto:
Maalaistentalo building – An architectural competition brought Aalto to Turku in 1927, when a young Alvar's design was selected by the rural organisations in South-western Finland with a work entitled Acer. Alvar and Aino Aalto also lived in the Maalaistentalo building after its completion. Humalistonkatu 7.
Turun Sanomat building – This office building for the main local newspaper was completed in 1929, and represents one of the first examples of functionalism in Finland. Kauppiaskatu 5.
Standard Apartment House – The name already indicates the idea behind the design, catering for the development of a bigger society. The house was created from new types of construction elements as a future vision of urban living. This story was interrupted by the 1930s recession and bankruptcy for the builder. Läntinen Pitkäkatu 20.
One of Turku's great architectural names is, of course, Erik Bryggman. His journey of work as a pioneer of functionalism began at the same time as Aalto. For example, their close cooperation produced the first Turku Fair pavilions.
Erik Bryggman's work focused on Turku for four decades, and his mark has really been left on the city. Here are a few of our selections that you can visit at your own pace or by booking a place on a tour.
Resurrection Chapel – Bryggman's most famous work was completed at Turku Cemetery in 1941 between Finland's Winter and Continuation Wars. Its comforting architecture was a calming inspiration in the midst of uncertain times, and continues to bring a sense of peace and serenity. The south wall of the chapel has a large window, with benches set obliquely so that whilst observing the coffin, mourners can still see the world outside.
Hippoksentie Racetrack Kiosk Office – As a light counterbalance to the sombre tone, this charming little hut on the edge of Kupittaa Park is quite the subtle treasure. Whilst observing, you can imagine a time when even little things were done in style.
Sampo House – This functionalist building, paved with ceramic tiles made of the legendary Kupittaa clay and located on Yliopistonkatu Street, was completed in 1936. With the innovative use of tiles to decorate elsewhere other than in the bathroom, the ochre-coloured wall tiles have inspired a host of renovation ideas.
Atrium, Hospiz-Betel and the Betel Church Tower – The Atrium residential building, completed in 1927 on Yliopistonkatu, was still a clear representation of classicism, but the Betel hospital, built a few years later and located next to it, already had a hint of functionalism. The latter now houses the Scandic Plaza Hotel (Yliopistonkatu 29), where you can realise your dream of living in a pearl of Bryggman's functionalism. The milieu is complemented by the Betel Church Tower, and exudes an Italian-style piazza atmosphere.
Book Tower, Kåren Student Union Building and Student dormitories A and C – Yet more reasons created by Bryggman to come to Turku to study or at least for a walk!
Sibelius Museum – Built in the 1960s, this jewel of concrete modernism is a work by Woldemar Baeckman from 1967. The rugged block stands at the centre of the ornate idyll of Piispankatu Street yet still suits its surroundings well. Housed inside is an exhibition of the stages of Sibelius' life and a collection of fascinating instruments from the world of music.
Chapel of the Holy Cross – In addition to the Resurrection Chapel, Pekka Pitkänen's Chapel of the Holy Cross, built in 1967, is another place of architectural and spiritual worship. Inside the minimalist concrete architecture, it is worth focusing on the essentials. The stripped-down clock in the lobby has no numbers, befitting a place in which the people of Turku come together to leave our time and connect with eternity.
St. Henry's Ecumenical Art Chapel – This wooden, copper-covered chapel, completed on the island of Hirvensalo in 2007, resembles a boat or a fish in its design. The building, designed by Matti Sanaksenaho, is also an absolute must-see for both art lovers as well as international architecture tourists.
Life on a leaf – Created by artist Jan-Erik Andersson, architect Erkki Pitkäranta and in collaboration with invited artists and artisans, Life on a Leaf is a fairy tale work of art full of colour, fabulous details and a joyous labyrinth of life. The "Leaf House" on the island of Hirvensalo also serves both as the artist's home and as a destination for tourists.
New main library – Turku's main city library takes up an entire city block, one end of which dates from the beginning of the 20th century and the other end from 2007. The modern section of the building, designed by Asmo Jaaksi, is full of intelligence and light. Linnankatu 2.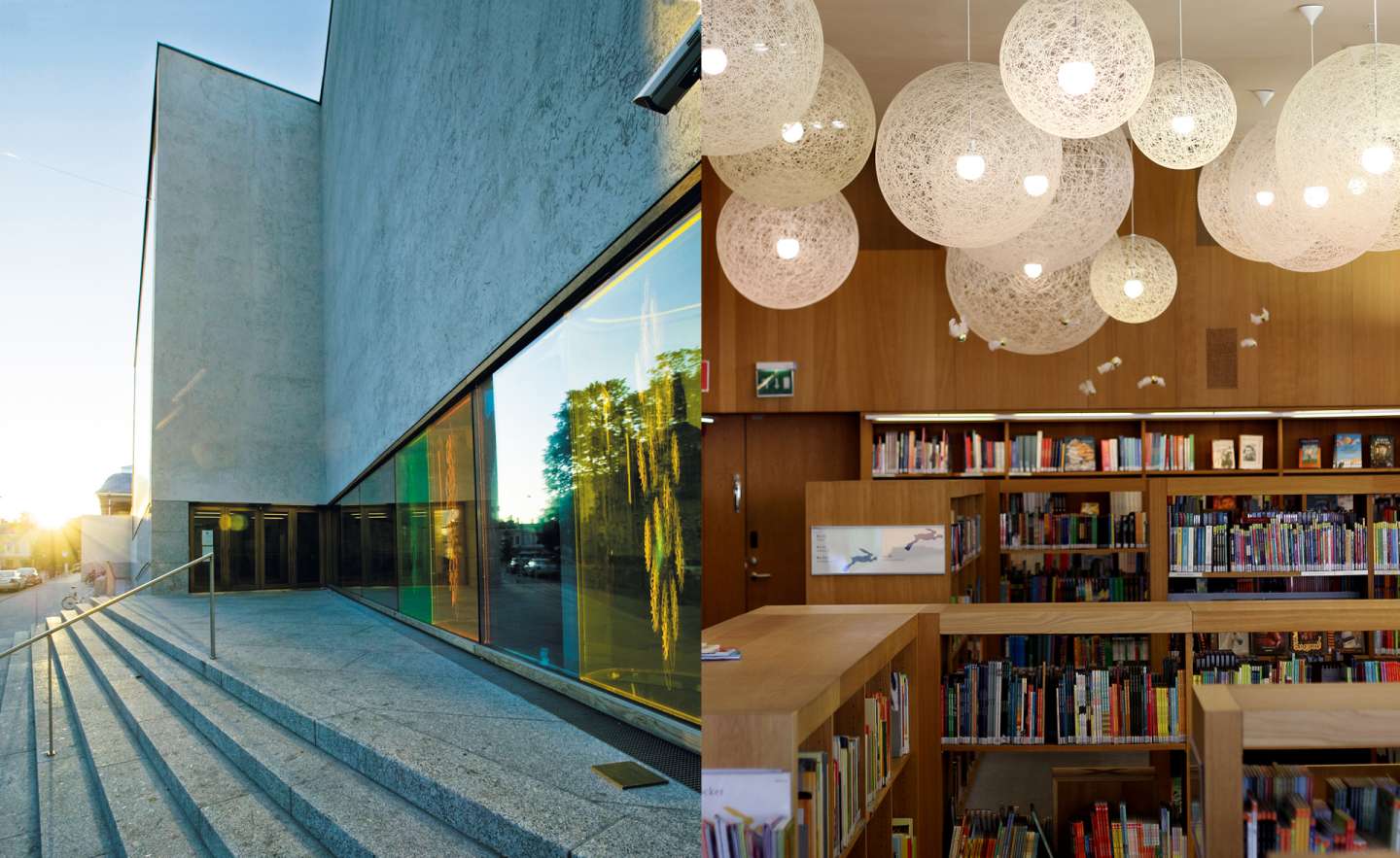 Verdandi – Designed by Frithioff Strandell, this neo-renaissance style building from 1898, is as central to Turku as it can be. Inspired by Italian palaces, notice the rich, cream cake-like details of the corner tower that forms the crown of the building. Oh, and at the street level, you'll find the popular café Fontana. Aurakatu 1.
Hjorten – Another of Frithioff Strandell's designs, the impressive Art Nouveau chateau was completed in 1904 on Kaskenmäki, on the edge of the park. Also the residence of the architect himself, it is still one of Turku's most significant and valued properties. Kaskenkatu 4.
Pantern – All Turku's residents are familiar with this priceless design from Frithioff Strandell. Completed in 1910, the building, according to many, is the best representation of the Art Nouveau style in Turku, identifiable by the graceful panther emblem on the facade of the house. Kaskenkatu 2.
Funny fact: The names of the neighbouring Hjorten and Pantern in Kaskenmäki are taken from Carl Ludvig Engel's grid design from 1828, created after the Great Fire of Turku. In the drawing, each block was named separately.
Albatross – So, do all of Turku's old, significant buildings come with similar emblems on the facade? At least the most famous seem to do. Built in 1911, Albatross, designed by Strandell and known from the start as the House of Artists, stands behind the imposing Turku Art Museum in the Puolalanpuisto Park. Puolalanpuisto 7.
Betel Church – Hidden slightly behind other buildings, yet centrally located on Yliopistonkatu Street, is the intersection of Strandell and Bryggman's handiwork. Designed by Strandell, the original Art Nouveau building was completed in 1906. In 1927, Bryggman's designs expanded on the city block, adding the bell tower in his signature functionalist style. Yliopistonkatu 29.
Like Stockholm, Tallinn and other places with a long history, Turku is an old city. The old quarter includes the Cathedral and the adjacent Old Great Square and the Vähätori area on the opposite bank of the River Aura, which is also known for housing great restaurants on its square.

In addition to the Cathedral, which was consecrated in 1300, the area's landmark buildings include: the Brinkhall Manor, known for the Declaration of the Christmas Peace, the oldest restaurant in Finland, Pinella, as well as Casagrande House, which dates back to the Middle Ages. At the Aboa Vetus & Ars Nova museum on the edge of the block, you can visit the excavated ruins of a medieval town quarter of Turku, as well as a fine collection of contemporary art housed in the same building.

Scandic Plaza – This funky treasure of Erik Bryggman is a great base for architecture enthusiasts on Yliopistonkatu.
Solo Sokos Hotel Turun Seurahuone – Wow, another building by Erik Bryggman, and this design was actually meant to be a hotel! This beautifully boutique hotel, which underwent a total renovation a couple of years ago, operates at Humalistonkatu 2.
Park Hotel – This enchanting Art Nouveau chateau hides a small family hotel inside. Individuality guaranteed, this cosy place is just off the end of Rauhankatu Street, but still right in the heart of Turku.
Hotel Helmi – This hotel is in a beautiful functionalist-style building right next to Turku's main bus station.
Omena hotel – "Oh, and this hotel in Turku operates from the Maalaistentalo building designed by Alvar Aalto. Indoors, however, no original architecture remains – what a shame!"
When visiting Turku, it is definitely worth making a trip to the neighbouring city of Naantali as well. The old town of Naantali is known for its extensive and continuous area of wooden homes, where each house has its own name and long history, spanning more than a hundred years. Old Naantali is also still a vibrant and inhabited town, adding to its authentic charm.
From Naantali's guest harbour, squint and you'll see another worthwhile destination - the President's summer villa of Kultaranta. The stone manor designed by Lars Sonck is not open to visitors, but Kultaranta has a beautifully designed garden, unique in Finland. There you can enjoy guided theme tours, details for which you can explore here.
Text Liina Komi. Video Kim Allen-Mersh. Photos Jemina Sormunen, Jouko Luhtala, Hanna Helander, Magni Mundi and Visit Turku.